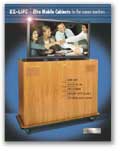 Kreski Marketing helps with research, literature design

JELCO's Keith Urban explains his use of Kreski Marketing: "We felt that you had the expertise we needed because you had worked in the industry such a long time. Your work would be more focused and you'd get up to speed very quickly. It made my life easier."

Read about the Jelco EZ-LIFT product launch



Like most of us, reporters are short on time. But if you have legitimate news, press events (and releases) can be effective. You must be:

Relevant to the media & its audience
Easy to get to, easy to use
Complete with photos, video (if you go to TV) and background information
Succinct, honest and hype-free
Read "Meeting the Press" from Presentations Magazine.



Is the AV market beginning to mature? Or is our industry's pain just a temporary downturn on a larger upward trend?

"It's classic economics," says Alan Brawn, National Product Marketing Manager for Samsung. As a product becomes more and more accepted in the market- place, competition grows, prices decline, and the question becomes how to stay profitable. Many firms do very well.

Read Don's Pro AV cover story, "Surviving Commoditization."